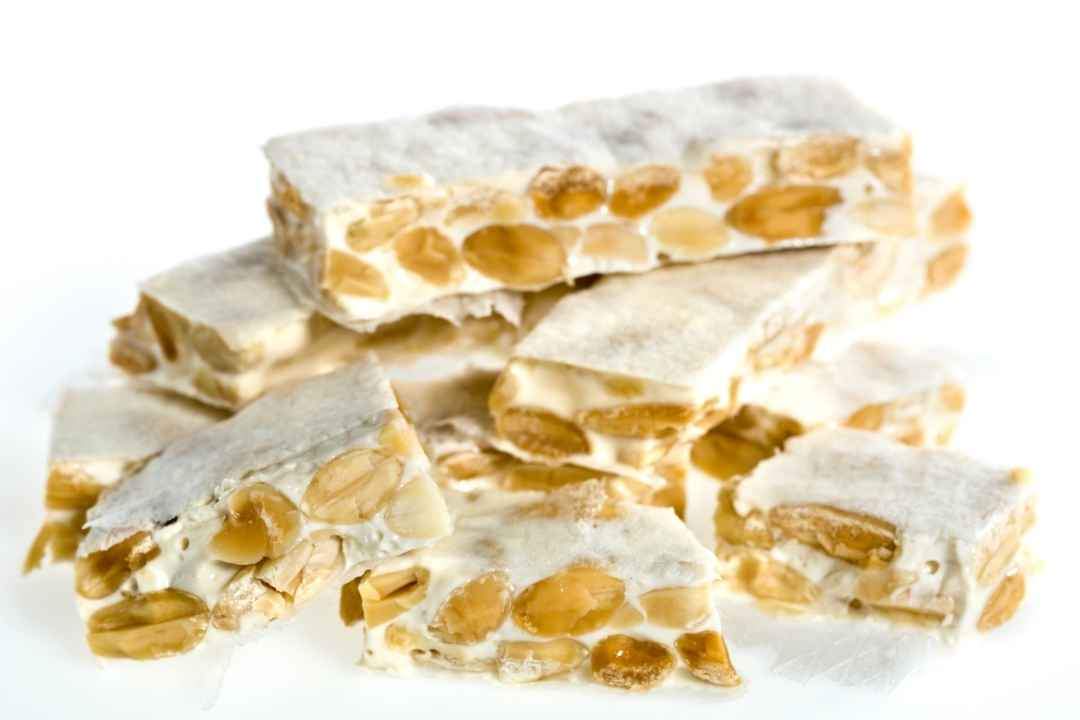 Alicante nougat is one of the most traditional Christmas sweets in Spain. In this short post we will tell you what Alicante nougat is, its origin and the ingredients that make it up.
What is Alicante nougat?
Alicante nougat is a nougat made from lightly roasted almonds and honey. As its name suggests, it originates from the province of Alicante in the south of the Valencian Community. There is a Denominación de Origen del Turrón de Jijona y Alicante which is responsible for guaranteeing the quality of all the nougats that bear this name. Although Alicante nougat is consumed all year round, its demand grows exponentially during the Christmas months. Its popularity is so high that turrón de Alicante can be found in most Spanish homes.
The most typical thing to do is to serve turrón de Alicante broken into pieces and serve it on a tray or plate with other Christmas sweets such as turrón de Jijona, peladillas, marzipan and polvorones.
Alicante Nougat Ingredients
The main ingredients of Alicante nougat are almonds and honey, both of which are widely grown in the province of Alicante. For the best turrones, marcona almonds are used, which are much more expensive than other almonds, and rosemary honey.
Alicante nougat must contain at least 46% of its weight in almonds and the Regulatory Council of the Denomination of Origin requires that the honey has been produced in the Valencian Community.
In addition to almonds and honey, Alicante nougat also contains egg whites and sugar, which are used to make a meringue that is added to the honey to make the paste that is mixed with the toasted almonds and which gives this nougat its typical creamy white colour.
Buy Turrón de Alicante
If you want to buy Turrón de Alicante Artesano you can do it in our online shop, where you will also find other typical Spanish nougats such as Turrón de Jijona or Turrón de Yema Tostada.