Chorizo and Prawn Paella Recipe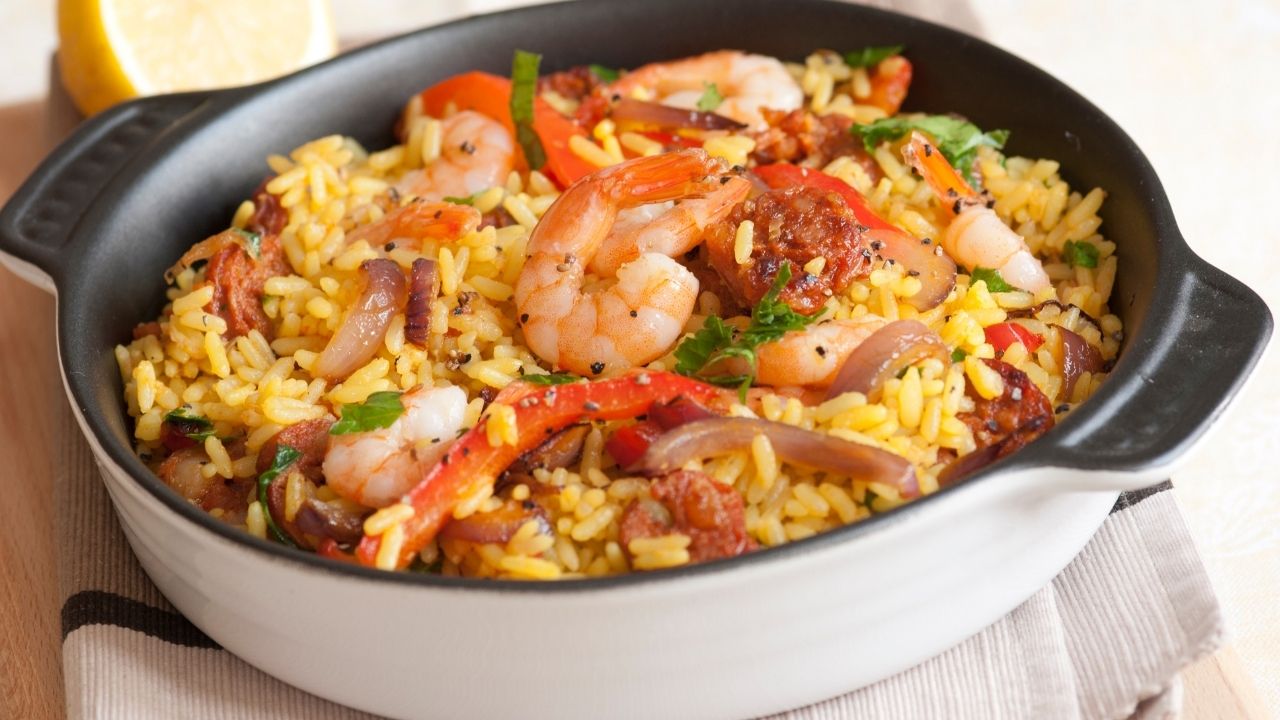 Paella is a little different in every Spanish home. Over time this typical Spanish recipe has evolved in very different ways depending on the ingredients available in each area and the personal touch that different chefs have given it.
In my family's case, Sunday paella is not a very traditional paella, it is a sea and mountain recipe that combines vegetables, chicken, prawns and chorizo, among other ingredients.
Try cooking this paella for your friends or family, I assure you that they will love its intense flavour. And if you're wondering why add chorizo to a paella, the answer is very simple: chorizo enhances almost everything and adds its smoky, umami flavour to the rice.
Essentials for excellent paella
To make the best paella possible, it's a great idea to invest in a good paella pan. It will allow you to spread the rice out in a thin layer to help it cook evenly and to help it cook to its optimum point. But if you don't have one, don't worry. Use the widest, flattest pan you have.
As for the rice, although it may not seem like it, it is the most important ingredient in paella. You will need a round-grained rice, capable of absorbing all the flavour of the other ingredients and that does not break. The perfect rice for paellas and the one that every master paella maker in Spain uses is bomba rice.
Ingredients for 4 people
2 tablespoons of olive oil
400 g bomba rice
800g chicken or vegetable stock
1 finely chopped onion
1 red pepper, chopped
3 cloves of garlic, chopped
3 tablespoons of crushed tomato
2 teaspoons of paprika de la Vera
A little saffron
200 g semi-cured chorizo sausage
200 g headless prawns
Lemon to serve
Fresh parsley to serve
Preparation
Place a paella pan or large frying pan over a medium heat and add the olive oil. Fry the chorizo, previously cut into slices, so that it releases some of the fat for about two minutes.
Add the onion and pepper and sauté, stirring occasionally, until the onion is soft and translucent. Then add the garlic, paprika, saffron and sauté for a couple of minutes more.
Add the crushed tomato and cook for a further 2 minutes. Add the rice and sauté, stirring, for another 2 to 3 minutes until the grains are completely covered by the tomato and spices.
Pour in the stock, season and bring to the boil. Lower the heat immediately and reduce to a simmer. Simmer for 10-15 minutes. Do not stir the rice: it will release its starch and become sticky, remember we are not cooking risotto.
When the rice is almost done, place the prawns on top of the rice and cook until they are pink in colour.
Remove the paella pan from the heat, cover with a tea towel and leave to stand for 5 minutes before serving.
DIE FAVORITEN UNSERER COLONOS